Just like fruits and vegetables have a season, so do the parties I like to attend. If it's summer, I'm in white, near the beach, and this past summer, the party that captured this so perfectly was the PopUp Dinner LA - Evening in White held on the Santa Monica Pier. Now that the temperatures have dipped a few scant degrees, it's time to go indoors and don black evening attire. So once again, Handmade Events has come through with the event of the season, and they brought LA the first winter PopUp Evening of Masquerade because well, anyone can wear all black, but when you throw in some masks, you've got a party.
The premise of this winter event was similar to the summer one. You pay a nominal fee which was $35 in summer and $48 this winter. Inflation sure works quickly in LA. For this fee, you are given a venue to par-tay with bare folding tables and chairs and musical entertainment for the evening. Yes, you are in charge of some quite literal heavy lifting.
People bring trolleys and wagons, rolling shopping carts and even suitcases in our case to cart all the fine china, silverware, decorations, table decor, and the list goes on, depending on your creativity level and interest.
The venue is a surprise as seems to be the common theme these days like at my Supper Club Dinner Lab events. Two hours before the start time, the location was released via email. This event was held in a large two room studio in the Sunset Junction area. We arrived half hour before the doors opened and beat the long line to secure a perfectly positioned table. Yes, we're serious.
Our crew of eight was ready to up the ante of the previous dinner as we continue to learn and hone our dinner each time.
The dishes are a no brainer. Of course you need black and white chargers, salad plates, dinner plates, dessert plates and soup bowls, along with water glasses, champagne flutes, wine glasses and port glasses. Those are all a given, naturally.
Then there's the extras that fall in the ante upping category like the ribbon wrapped printed menu outlining all the items and courses we each had prepared.
And knowing space is at a premium on the table, one smart friend put two different kinds of bread, bread sticks and homemade butter in a decorative black and white box that conveniently sat tucked on each diner's left.
And then there's the decor. There were flowers, lanterns, lights, tablecloths, runners, floor coverings, center pieces. Oh, we went for it.
We even brought our own side table this year because we found that there just wasn't enough room on our properly outfitted dining table for any food. It was a good place to host happy hour champagne and hors d'oeuvres.
Nothing but team players in this group doing what needed to be done for proper decor.
Of course we weren't the only one's getting into the spirit. We saw a wide range of tables and food offerings that ranged from a bucket of KFC to sushi to the domed plates that we saw this summer as well.
There were beautiful flowers, centerpieces, lights and the like.
Everyone had their own take on celebrating the spirit of LA's PopUp Evening of Masquerade.
Yes, I see you shaking your heads, but yet you can't look away and you want to see what other crazy lengths people went to, to simply entertain themselves...and now you. Let me indulge you further.
The napkin wave was still tradition, but this time it was mixing black and white cloths, and with not as much ceremony as in the summer time. It was kind of like when you look at your watch and realize you missed New Year's, and suddenly it was time and people gave a wave or two, and went back to eating and drinking.
The entertainment was well, really entertaining. Two live bands played, followed by the same summer DJ Johnny Hawkes. All great music that actually lured people away from their elaborate set-ups and got them moving on the dance floor.
People went to as much trouble dressing their tables as themselves. There were tuxes, tails, gowns, masks, hats, sequins, feathers and when you get all of that on you, there's nothing but smiles.
It's fun to watch an empty space transform into something magical. In a place like LA, where people can get overly jaded, it's refreshing to see the level of effort, creativity and thought that individuals put into an event like this.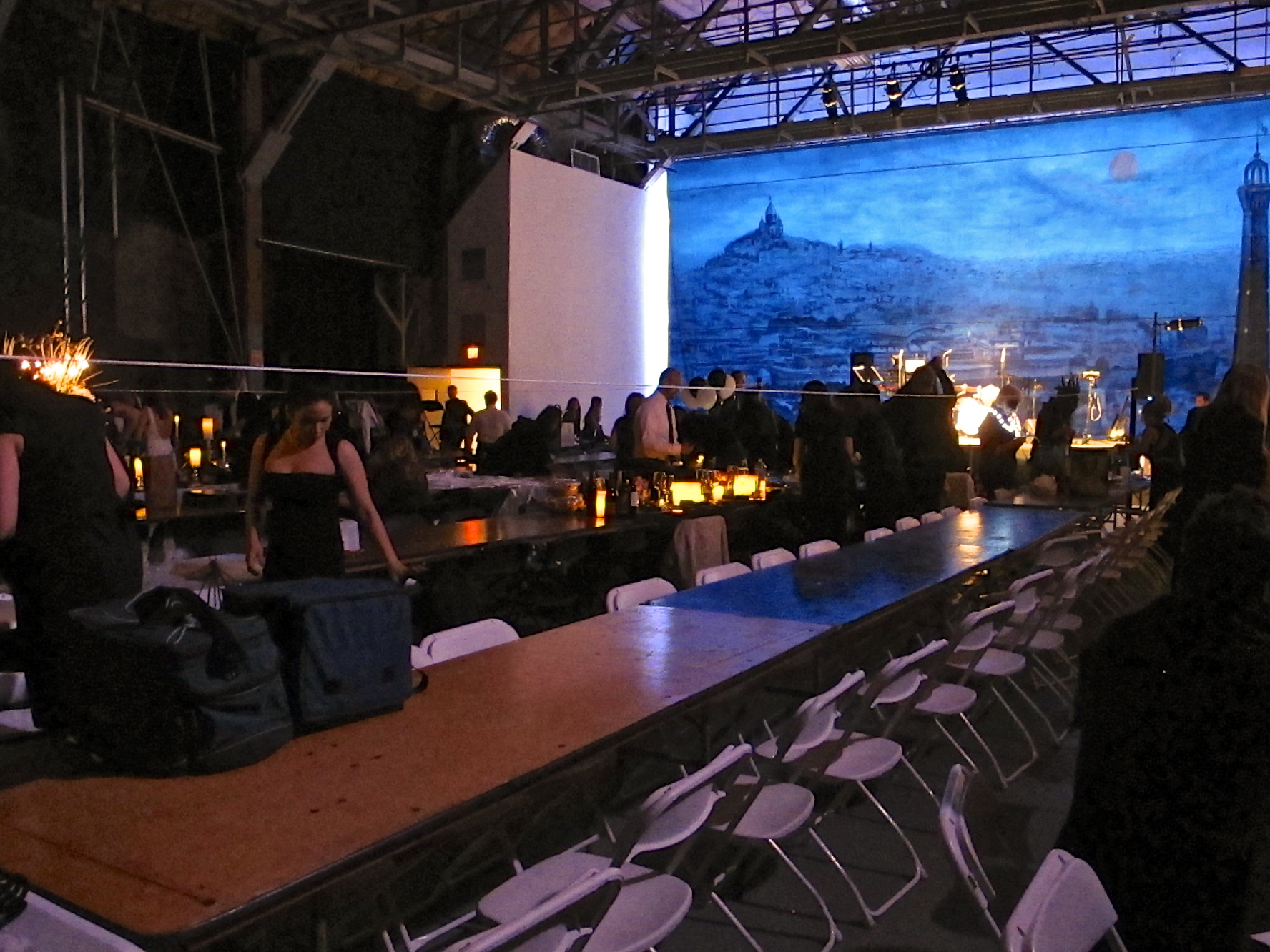 It's fun to step away from the box restaurant and well worn dining table, and let your creative juices flow and inspire and be inspired. It's an event with no agenda. There's no prizes for best table. There's no rules on what food to bring or how your space should look. There's no real reason to participate, but maybe that is exactly the reason.
Hope to see your inspirations next time!